Community Member Spotlight: Teddy Carroll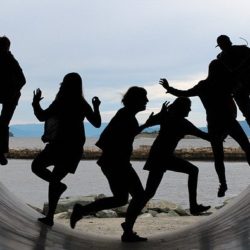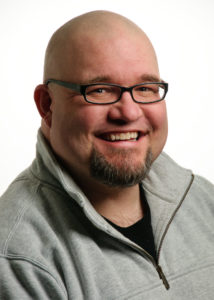 Welcome to our first community member spotlight, in which we will interview a member of the Agile Denver community quarterly with the hopes that you feel more comfortable and connected with our community members at large. 
This month, we met up with Teddy Carroll, a scrum master and Agile Coach at the Scrum Alliance. Teddy has been a member of Agile Denver for ~7 years and was one of the first people I met when I joined the community myself. I spent some time with Teddy earlier this month to catch up and learn more about him. 
---
Jen Krieger: Teddy, thanks so much for taking the time to talk to me tonight. For the record, will you tell me your name? Where do you work? And one minor tidbit about yourself just to get us started.
Teddy Carroll: Well, my name is Teddy Carroll, and I am a Scrum Master and Agile Coach at the Scrum Alliance. And I really, really love barbecue.
JK: OK, that BBQ bit is going to come up later. But I wanted to check in with you… when I first met you, you were driving six hours a day to and from work and you were always in the car. Where are you located in Colorado?
TC: I live in Erie; close to the eastern side of Boulder County. 
JK: So now that you don't have to drive anymore, did you get to pick up a hobby with all of that spare time?
TC: Sadly most of that time is now being replaced with actual work!
JK: Are you telling me that your eight hour day has suddenly become a 10… 12 hour day?
TC: I don't let it become 12! I try to be good to myself because as an agile coach it's my job to help people find ways to be good to themselves – to have sustainable work practices. So I figure I need to drink my own champagne there and be good to myself in that way.
JK: I'm guessing part of that drive also helped you kind of disconnect from work every day?
TC: Yes. I used to completely zone out for that hour driving back and forth to work. It's harder now. The trip up the basement stairs doesn't do the work that the hour drive did. I have to work harder to disconnect.
JK: I hear you! When we were in our apartment in downtown Denver, it was really difficult because there was no avoiding my workspace, which was also where I ate, exercised, watched TV, and pursued art. Now I have an office where I can close the door at the end of the day. What else has COVID changed about your working environment?
TC: My wife and I are fortunate to have enough space to have separate offices. I'm down here in my office in the basement and she is upstairs. So we have workplaces to go to. Some of our colleagues, friends, family… they're working from their kitchen tables or from the easy chair in the living room because there's nowhere else to go.
JK: I feel bad for my colleagues over in Europe who are working from their beds because there is only one room in their apartment. The difference between the space we have in houses in the US vs. other countries is huge.
TC: Before moving here, I lived in a 1100 square foot house with three kids and that wasn't easy. We have a larger place and the kids are self-sufficient now so that is fantastic. Having to live the way we have been for the last ten months, their self-sufficiency has been nothing short of a blessing. I see some of my colleagues on our calls and little kids jumping on the bed behind them. It's tough to have to worry about your children's needs when it's in your work day instead of outside of it. I have a lot of empathy for people in that situation.
JK: So let's switch gears a bit here. I'd love to know how you found out about Agile Denver and got involved? How long have you been in the community?
TC: I've been a part of the community now for about five or six years. And honestly, I don't remember how I first got involved. I think I went to a meetup with Agile Boulder in the early days before it was part of Agile Denver. I started going to those meetups, and then discovered there was a larger Agile Denver community. Then I took a class with Brad Swanson for my CSM certification. That experience encouraged me to be more involved in the community and actually take on some responsibility outside of just going to meetups and dinner parties.
JK: As a result, you have volunteered several times for Agile Denver's Mile High Agile conference …
TC:  Yes. I believe I started as a Day of Volunteer, and then met you a few years back when we were on the organizing team together. 
JK: Being part of the community this long is fantastic. What kept you coming to the events?
TC:  I think there's two things. One was the community. I met up with a lot of people that are like minded and care about the same things that I do from a work perspective. We are all trying to make the world a better place for humans. Having that support meant a lot to me. Second was the information that I was learning from the various speakers that I was seeing week after week. My commitment to the community today is because I fell a desire to help build the community and not just be a member of it – to make it better for everyone.
JK: I have to say that talking to you again reminds me of all of the fun we had when we were able to work in person on Mile High Agile. I miss that connection so much. I'm curious, how connected have you felt to the community over the past year? 
TC: Not as much as I would like, but I doubt that you would get a different answer from most people. And I don't think it's anybody's fault. We're all just trying to figure this out. But I don't feel disconnected. I just feel less connected. And I think it's circumstantial. I very much believe it'll change back once it's much safer for us to get together. I think everybody's going to jump right back into in person meetups when when it's safe enough to do so.
JK: Teddy, I want to celebrate you during this interview. With everything going on these past 10 months, what are you proud about accomplishing at work? 
TC: One of the things that I'm really proud of are the contributions that the scrum masters and coaches were able to make to the culture at Scrum Alliance, particularly during Melissa's time there. We spent a significant amount of time making it a good place to work.  I'm very proud of how we've been able to sustain it, even though we haven't really seen each other outside of little rectangles for the last 10 months.
JK: Makes me want to give you all a virtual hug! It's one of the hardest things to do to maintain personal connection with folks you don't get to see in person often!  So on that same theme, tell me tell me about something you're super proud of in your personal life.
TC: I think of my kids and helping them to respond positively to what's going on. Kids that had very weird graduation ceremonies, that didn't have prom, that missed out on several of the important things of high school life because of what has been going on, but yet continuing on into college. My son's going to graduate early this year and my daughter is going back to school tomorrow. I'm really proud of how they've taken all of this. 
JK: Eventually I'd like to meet your kids so I can tell them how proud their dad is of them. It warms my heart. However… we need to get serious now Teddy. This is important… How do you feel about Teddy "Pitmaster" Carroll? We were talking at a board meeting a few weeks ago about what we would do if suddenly it was safe to get together again. I am all for renting a park somewhere, inviting the community, and having a big party. Even more important – western or eastern BBQ?
TC: I consider myself to be a student of barbecue, not just a lover of it. So it's actually both! My favorite thing to cook is actually beef ribs, which is decidedly western, but my favorite sauces that I make are eastern. Piedmont sauces, vinegar based sauces from North Carolina, mustard based sauces from South Carolina. I don't really make the sticky, sweet Kansas sauce. But then I also make a Western sauce that goes really well with beef ribs. And my beans are pinto beans!
JK: Where did you grow up?
TC: Pittsburgh, PA.
JK: That makes a lot of sense because if you grew up here, you might ask me what I meant by the eastern / western BBQ thing. I don't know that we speak that language here in Colorado.
TC: I know there were two types of barbecue in Pittsburgh growing up. There was Chili's barbecue. And then there were the people who lived in the city that would be grilling and barbecuing. And fifty 55 gallon drums turned on their sides on the street corners and some of the neighborhoods in Pittsburgh. And those were the ones that I went to when I was old enough to drive and get to my own places. And that's when I really started discovering what barbecue was about. 
JK: I miss BBQ from North Carolina so much. There was like this little shack on the drive up from Charlotte that was tiny; no credit cards, cash only… and a bunch of smokers out back. They didn't even have a website, but it was the best barbecue. Hushpuppies to die for!!
TC: I visited several of those places in northern South Carolina, Georgia and North Carolina when I was a kid from just vacations and stuff. I love the history of it. 
JK: Teddy, you have been so kind to talk with me tonight. I just have one more question for you. I have always admired your tattoos – do you mind telling me about your sleeve? 
TC: This was my fortieth birthday present to myself. I designed it and then my tattoo artist turned it into actual art. So there's a koi and that's a Japanese symbol for perseverance because salmon koi go upstream to spawn. It's a very strong symbol of perseverance and trying to get over obstacles. On the inside of my arm here, this is some kanji that was the actual kanji from the person who sits at the top of the martial art school that I have been involved with for the last twenty five years. And it says masakatsu agatsu which means there's no victory but self victory – you are your biggest competition.
JK: Teddy, you're awesome. I think you need to know that you bring a lot of love and light into the world with your thoughtfulness and self reflection. You've made my evening amazing and I want to thank you for that.
TC: Thank you so much. Thank you for reaching out!