Objectives & Key Results (OKR) for Agile Denver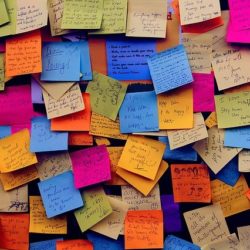 This cobbler's kids are well-shod! Because around here we eat our own dog food AND drink our own champagne! (sorry, couldn't resist)
After coaching other organizations to focus efforts by establishing Objectives and Key Results (OKRs)[1], I had a thought that we should use the framework to help establish goals for Agile Denver for 2021 and see what we could collectively do for the community in a transparent and measurable way. I had the great pleasure of collaborating with Agile Denver community leaders to generate our own OKRs. I must say, it was fun to use the tools on ourselves! 
Our process ticked some important boxes for me in terms of what I believe can make OKRs a good tool for aligning and focusing efforts to improve an organization.
Collaborative co-creation. I believe that org-level OKRs should be written by an extended leadership team, not just an executive team. You need to be able to see more of the organization–its strengths, challenges, needs–and so you need the people who can help you see. Also, your extended leadership team is ultimately who helps the org achieve the objectives, as measured by the results. We don't just need "buy-in", which implies leaders "selling", but rather whole-hearted passion and belief. That requires co-creation. For Agile Denver, "extended leadership team" means the SIG/CoP leaders who run the various sub-groups and who work constantly to nurture our community. It was great to truly work together.
Focused on change. At its most powerful, the OKR process involves imagining our org better in a year, and then figuring how we need to change to get to that better. What will we do, on top of business as usual, to make our organization more awesome? What a fun question to ask, and how inspiring to now have a picture of how to get there. 
Focused on the few. As I tell the leaders at my clients, a strategy should help align and focus everyone, and help them know what *not* to do. That focus feels even more important in a volunteer setting, where we have limited hours to give. I feels refreshing to *focus* on what we've decided together will make a difference, rather than the usual infinite list of possible work in my head (and on the Trello board).
Measurable results. Some of what we wrote is better than others, but I still feel like we wrote some specific enough KRs that we know what to do. And we'll know if our efforts are working.
All in all, it was fun to play with OKRs in a setting where I care so deeply about the results. (In client work, I care about quality, but I don't always have a strong opinion about what the actual objectives are.) I look forward to seeing how Agile Denver's OKRs help us create more forward momentum toward making our community more excellent.
We'll let you know how it goes!
–Ronica Roth, President of the Board
[1] https://rework.withgoogle.com/guides/set-goals-with-okrs/steps/introduction/